Staged Homes Outshine Their Competition
The way you live in your home and the way we sell your house are two different things. Staging secures equity, reduces time on the market and takes the stress out of selling a home. A staged home will show at its absolute best clutter-free, inviting and well cared for. Remember, you can only make a first impression once. A well-staged home outshines its competition, securing a healthy return on investment. With Staged Results you will sell your house for what it's worth.
Staging can make a big difference!
Average Number of Days on the Market
Average Difference in Selling Price Over List Price
Staged homes look better than the competition!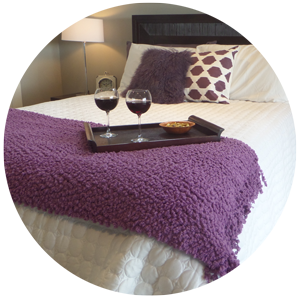 Staging for Homeowners
When you are ready to place your home on the market for sale, it becomes a product. Sometimes it is difficult to think of your house as a product but it helps to think objectively if you want to sell fast and for top dollar.
Just like any product on the shelves in stores, it has features and benefits, pluses and minuses and competition. To gain an edge you must be priced right and look better than the other houses in your price range. Buyers, need to see the best qualities in the property not your decorating skills. Buyers need to "feel" they can move in right away. They need to be able to say to themselves: "I can see us us living here!"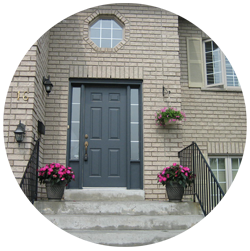 Staging for Realtors
When you employ Staged Results, to stage a home before it comes on the market, you can be sure of a faster, more profitable sale. We assist REALTORS® market homes using the art of 'model or 'show home' target marketing, while tailoring each property to look "irresistible to all".
REALTORS® need to do what they do best: use their time and energy where they will get the most return; listing and selling houses. Staged Results offers a fast and easy way to maximize the potential of all listings regardless of location or price. A staged home will look better than competitive properties. When buyers are focusing on homes in a certain price range a staged home will stand out from the rest.
I just wanted you to know that we have taken your recommendations to heart, and have done to date almost 95% of what you suggested for our home. It looks fantastic, and I am just thrilled with the results. I know our home will impress prospective buyers in a way it never would have before. Thank you for your expertise and time...I thoroughly enjoyed it!
I would like to thank you for being responsible for the sale of my home. After your professional staging of our home...we literally it sold in days for full asking price with a bidding war. Yes I would have to admit I was a bit skeptical....but I was wrong! The house was on the market for 6 weeks with no offers till the staging ....Courteous, professional and quality to say the least!
Our house had been on the market for a few months without much action when we had Bonnie in to stage it. After meeting with Bonnie, she described to us what she thought we would be a good arrangement of our furniture to make it more appealing to prospective buyers. She was able to arrange the furniture and use a lot of the existing pictures and accessories to make things a little more interesting and exciting. She then gave us a small shopping list and we bought a few accents to finish off the rooms. With a minimum of cost it looked like a different home! The results looked outstanding and we had an offer on the house within three days.
Shirley Miller
Heirloom Portraits Inc.
It was a great pleasure to work together as you helped prepare our home for selling. Your tips were objective and astute and I would not hesitate to refer your services to anyone looking to place their house on the market. In addition, I would recommend you to anyone wanting to make the most of their present living space in terms of comfort and design. What I particularly liked was that you used the items that we already had in our home which helped to keep our costs down. Thanks again for your personal touch and your professional service.
Bonnie came in, assessed what would be needed to be done to spruce the place up; her painters, electricians and handymen started the next day and within 6 days our house was transformed. The transformation is so impressive that even if we don't sell we will now be very happy with the facelift of present home. Hope this helps others in the military who don't know where to start in preparing their home for sale.
I had a listing with a very nice home in an exceptional neighbourhood and priced right for the market(so I thought). After 65 showings and with no offers I decided to 'try' something and called Bonnie Carter for her assistance. Bonnie met with the homeowners and through her pleasant and 'persuasive' personality along with her knowledge of showcasing a property instantly gained their confidence and co-operation and a few days the home took on a different personality. Within 10 days of her staging the home, we received an offer and subsequently sold the home for 99% of original list price. Bonnie both my homeowners and myself were very satisfied with your professionalism and personality. On a personal note I wish to Thank You for your assistance and will definitely engage in your services again (sooner next time).
Walter Doret, Broker
Royal Lepage First Contact Realty, Brokerage
Just wanted to add my thanks again for helping to stage the home properly, it made a huge difference when you were involved. We had approx 15 families through, 2 expressed an interest in coming back with their respective others and 1 family stayed for 45 minutes and I think we are on their short list. Once again, thank you, we are going to be seeing a lot more of each other.
Ian Hocking, Sales Representative
Royal Lepage First Contact Realty, Brokerage
An update - the home sold - it sold the first day - listed at $259,900 and
sold for $258,000. It was a really popular listing and I wish I had five
more just like it! More proof-positive that your techniques work well with a
homeowner who is motivated to take recommendations and actually do
something with them. Bonnie does a fantastic job for our clients. She is very personable and puts people at ease on her staging appointments. The results are impressive and present our listings at their best. We count on Bonnie to help our clients sell their homes at top dollar!
Tammy & Tracey Dufault
Town and Country Homes, Century 21 BJ Roth Realty Ltd.
Just a quick note of thanks for your wonderful ||home staging services|| that helped my recently listed homes sell faster and for top selling price. I can attest to the fact that we as Realtor's have needed your professional home selling advice for as long as I have been in the business; 16 years. Selling a home in the future without you would be like marketing without advertising. You can count on all my future business and referrals.
Ross Mair
Coldwell Banker
Thought you'd be interested in knowing that I listed Jacqueline's home last Wednesday evening and sold it on Saturday! She had done a really nice job in preparing her home and was appreciative of the suggestions which you made.
It took a little time to get ready (i.e. packing/painting the bathroom etc.) but her home looked absolutely beautiful! We did a virtual tour last Thursday and the photos turned out really well. Three showings on Saturday - then I got one Saturday evening which resulted in an offer that night which was accepted - then had to cancel four showings already scheduled for Sunday! Thanks again for your assistance in making the ||moving experience|| a very positive one - again!